daisygrl64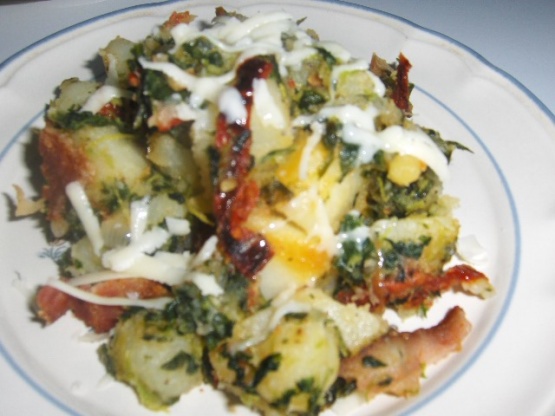 I came up with this recipe for the 11th RSC contest. I used red skinned potatoes but other types would work just as well. I boiled mine, but leftover baked potatoes would work also. These worked well with as a side dish with steak or with eggs for breakfast. We've also eaten them as the main dish. If you want a little more kick, increase the cayenne pepper to 1/4 teaspoon.

Great potatoes! We loved them. I also served them with eggs and it was a wonderful combination of flavors. Thanks, Kim127.
Boil cubed potatoes until tender, about 15 minutes.
Heat olive oil and oil from sun-dried tomatoes over medium high heat. Add shallots and potatoes. Cook for 20-25 minutes until the shallots and potatoes turn golden.
Mix in spinach, tomatoes, cayenne pepper, and salt. Stir to mix ingredients. Add tablespoon butter and continue to cook until butter melts and spinach and tomatoes are heated through, about another 5 minutes.
Top with shredded asiago and crumbled bacon. Serve with additional salt and pepper if desired.