Sito's Lebanese Cabbage Salad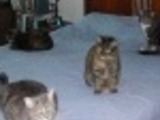 Salty and lemony and low-cal and very good for you! From the December 2007 issue of Cottage Living. Prettiest with red and white cabbage, but you could use one or the other as I've noticed that "small" heads of cabbage are hard to find. One medium head of either cabbage will work too. You might want to let the flavors mix in the fridge overnight, but the recipe didn't call for it:D Really great for a picnic!
Directions
Combine all ingredients in a large bowl. Taste and add more lemon juice and seasonings, if desired.
Reviews
Most Helpful
Enjoyed this salad -- used red cabbage and green cabbage that I had in the fridge -- shredded them in the food processor along with the mint (I think I had less than was suggested though). Very good with fish! Thanks for sharing!
I loved this salad. Of course I love anything with cabbaga and lemon. I cut this down for the two of us and left out the mint (couldn't find fresh) but other than that made as written. Can't wait for fresh tomatoes to come back. Thanks Kumquat for a keeper.