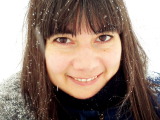 Adapted from Company's Coming Pasta cookbook. One of our favourites, it can be hot, hot, HOT, or just toasty warm, depending on the amount of spice you want to use. Since my daughters were born, I've actually completely omitted the red pepper and it's still delicious. You can also adjust the servings by the amount of pasta you use. Another thing you may want to adjust is the amount of sauce. This dish isn't particularly moist, so I often add extra oyster sauce and/or plum sauce at the table. Then just add egg rolls and Japanese Coleslaw or a sweet salad and you've got a perfect meal for entertaining that's simple and quick enough for anytime.
Directions
In a wok or large frying pan, scramble-fry pork with garlic, ginger, cayenne, curry, and green onion. (If you're not using lean meat, you may want to partially cook the meat by itself and then drain most of the fat before adding the other ingredients.).
Meanwhile, cook spaghetti according to package instructions.
Add oyster sauce and soy sauce to meat mixture and toss well to mix thoroughly.
Drain spaghetti and add to meat. Toss to mix and serve.
Reviews
Most Helpful
I have made this twice now and it is just very good, the left overs are even better!! Give it a try if you haven't already. (I doubled the soy and oyster sauce, used ground turkey)
This was good, but a little dry for our tastes. But very easy!