Singapore Rice Noodles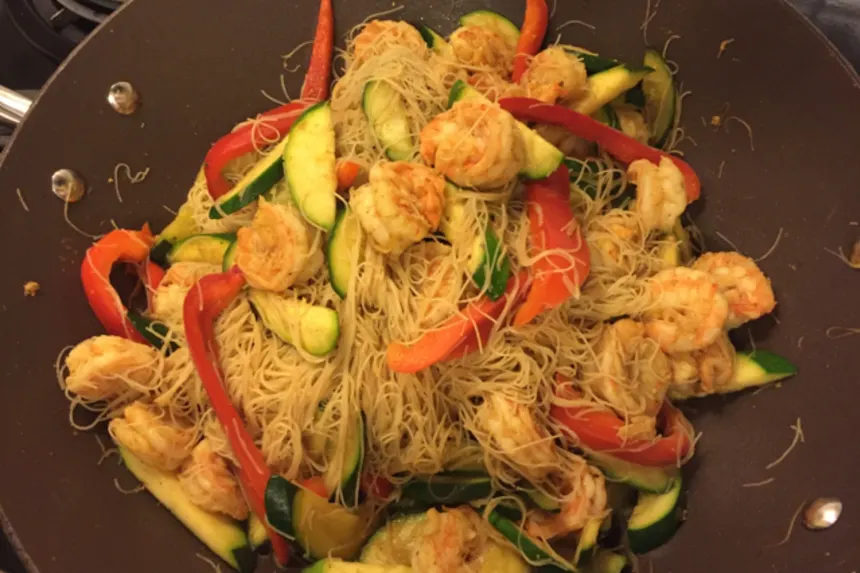 photo by Chanrudee H.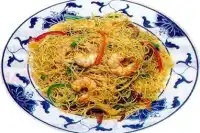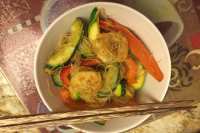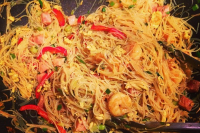 Ready In:

1hr 15mins

Ingredients:

21
directions
Bring a large pot of water to a boil.
Drop in the rice noodles and boil until tender but firm to the bite, 1 to 2 minutes.
Drain and rinse under cold water.
Let the noodle air-dry and firm up in a colander for at least 30 minutes or as long as 2 to 3 hours; toss occasionally.
When you are ready to prepare the dish, whisk together the eggs, 1/2 teaspoon of the curry powder, and all of the sesame oil until blended.
Spoon 1/2 tablespoon of the peanut or vegetable oil into a heavy skillet or wok set over moderately high heat.
Pour in the egg mixture and immediately reduce the heat to low.
Scramble the eggs until just set; turn out onto a plate and reserve.
Return the skillet to moderately high heat and spoon in 1/2 tablespoon of the oil.
Add the shrimp and stir fry until just barely cooked, about 1 minute (they will cook more later).
Remove the shrimp and reserve in a small bowl.
Return the skillet to moderately high heat and spoon in 1 tablespoon of the oil.
Add the pork and chicken and stir fry until just cooked, about 1 minute.
Remove and reserve in a small bowl.
Place a large, heavy wok over high heat.
When very hot, spoon in 2 tablespoons of the oil.
Add the ginger, garlic, chilies, and the remaining curry powder.
Stir fry until fragrant, about 30 seconds.
Add the Chinese pork or ham and red and green bell peppers and stir fry for 30 seconds.
Sprinkle on 1 to 2 tablespoons of water and cook until it boils away.
Push the ingredients to the sides of the wok and add the remaining 1 tablespoon oil.
Add the scallions, bean sprouts, and noodles and toss over high heat until very hot, about 30 seconds.
Pour in the chicken broth and bring to a boil.
Return the shrimp, pork, and chicken to the wok and add the soy sauce and sherry.
Toss well and add the salt and the reserved scrambled eggs.
Sprinkle on the cilantro and turn out onto a larger platter.
Serve hot.
Reviews
My brother was stationed in Cambodia during the Vietnam War and brought home this recipe. He used to make it and invite the family over for dinner. When he died, his recipes died with him (they were all in his head and he never wrote them down). Back East I used to be able to find this at so many places, I really didn't care until I moved West, to Montana. Montana has the worst ethnic foods in the world, so I've been craving this forever. Just on a whim, I tried searching here and found this. This is THE RECIPE he used, it tastes exactly the same (or maybe better) and I am so thankful I found it. Now I'm going to try searching for his spaghetti sauce recipe. Wish me luck. Thank you so much for posting this.

 
Tweaks
Been craving this all week and didn't want to get it from the takeaway again, Great recipe! Once all was prepped took about 10 minutes to cook. I will make this again on the weekend but won't be using the 1/2 cup of chicken broth as this made the dish too wet/soggy. I substituted scallions for spring onion and corriander instead of cilantro. Did not use shrimp as i am allergic and couldnt find the chinese pork/ham in the supermarket. Apart from that this tasted delicious!!!!

 

This was pretty good, I did make some changes. I didn't use any pork products, but doubled the amount of chicken to make up for it. I used a jalepeno pepper since the store didn't have fresh chili peppers. Otherwise I made it according to the recipe. I thought it was somewhat lacking in flavor though. I tried sprinkling some crushed red pepper flakes over it. That didn't do much so I drizzled some hoisin sauce over it. That did the trick. Tomorrow when I reheat the leftovers I will add some more hoisin. The presentation is lovely though, just the right amount of color. Oh, one other change I made was to use the flat rice noodles instead of rice sticks.

 
RECIPE SUBMITTED BY
I'm a self-taught home cook who reads cookbooks like a novel. Then I try out all different nationalities of recipes, especially the more complicated ones...I love a challenge! I entertain often and enjoy cooking for others more than for myself. If my friends and family are happy eating my cooking, then I'm ecstatic!
View Full Profile