Sinful Red Velvet Cookies
SharonChen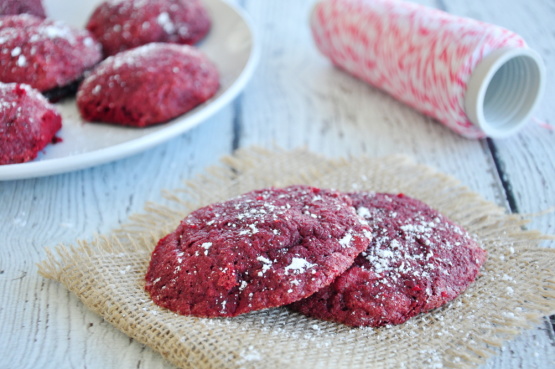 This is based on a Paula Deen recipe, so it's quite rich ;) This is by far the most luxurious cookie I make. They never last long. They're painfully easy to make, which may be bad news for your waistline.

Great taste. A little messy to roll. Put spray on your hands or use plastic gloves. I stuck in a Hershey kiss after they came out of the oven. My friend was going to put cream cheese frosting on them insteadnof the powdered sugar
In a large bowl with an electric mixer, cream the cream cheese and butter until smooth.
Beat in the egg.
Beat in the vanilla extract.
Beat in the cake mix.
Cover and refrigerate for at least 2 hours to firm up so that you can roll the batter into balls.I've chilled batter overnight and it comes out fine.
After batter has chilled and you're ready to make the cookies, preheat the oven to 350°F.
Roll the chilled batter into tablespoon sized balls and then roll them in confectioner's sugar.
Place on an ungreased cookie sheet, 2 inches apart.
Bake 12 minutes. The cookies should remain soft and gooey.
Cool completely and sprinkle with more confectioners' sugar, if desired.
To make these devilishly rich, I also top the cookies with cream cheese frosting, which is simple to make. I use Bev's Cream Cheese Frosting (recipe #55530), but double the vanilla. Or, if I'm making them for people I know have more of a savory tooth than sweet, I'll triple it to a full tablespoon.