Bobby Flay Throwdown Red Velvet Cupcakes and Cream Cheese Icing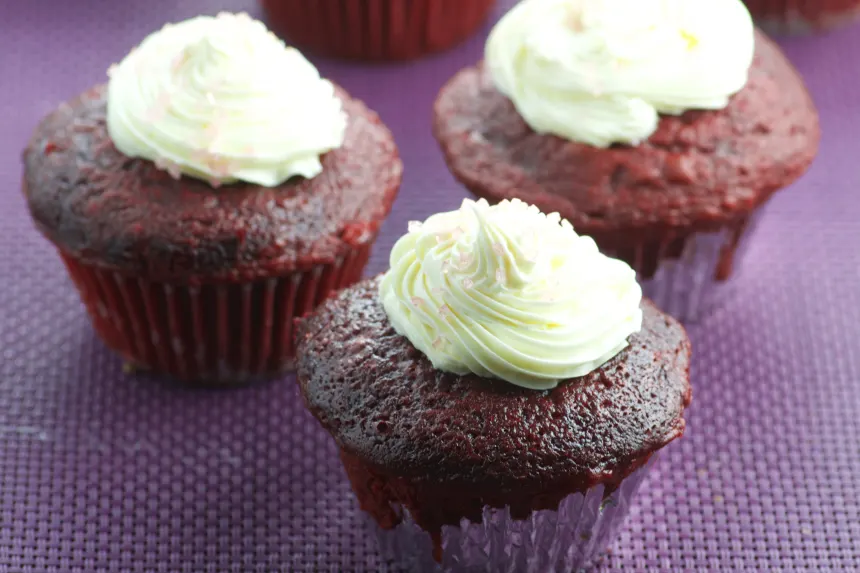 photo by May I Have That Rec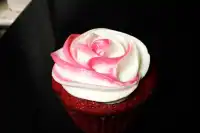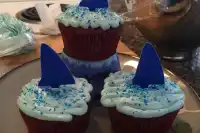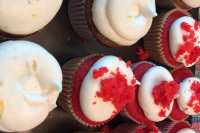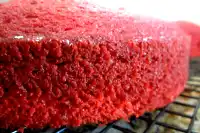 Ready In:

1hr 25mins

Ingredients:

17
directions
For the cupcakes:

Preheat oven 350 degrees F.
Sift together flour, baking soda, salt, and cocoa powder into a bowl and set aside.
In a mixer fitted with paddle attachment, mix oil, sugar, and buttermilk until combined. Add eggs, food coloring, vinegar, vanilla and water and mix well. Add the dry ingredients a little bit at a time and mix on low, scraping down sides occasionally, and mix until just combined. Be sure not to over mix, or the batter will come out.
tough.
Line a 16-cup cupcake pan with paper liners, scoop the batter into the liners and bake at 350 degrees F for 20 to 30 minutes or until the toothpick comes out clean. Let cool.

For the cream cheese frosting:

Whip the butter and cream cheese together in a mixer fitted with a paddle attachment until creamed. Gradually add powdered sugar to the mixture and scrape down the bowl as needed. Add the vanilla and mix until combined.
The frosting can be used right away, or stored in the refrigerator up to a week.
Frost cooled cupcakes with the cream cheese frosting.
Reviews
the cream cheese frosting is incredible!! I made a medium-sized 3 layer cake using the same instructions. It was my first cake, and it came out pretty good. The frosting makes a TON so i suggest either halving it or doubling the cupcakes. Also, I hand-mixed the cake batter. It wasn't too difficult, and it made sure that it cake turned out moist and delicious. :)<br/><br/>DEFINITELY up the cocoa to 1/4 cup. <br/><br/>Thanks for the recipe!!!

 

Yummy! I'm not really a fan of red velvet cake, as it seems like they are just a novelty. I was, however, looking for a good vanilla buttermilk cake recipe. Since I wanted to make green cupcakes for St. Patty's, I made this recipe as Green Velvet cupcakes. Wow. I may have to reconsider my opinion of red velvet. These cupcakes were moist and tasty. Kind of sweet and buttery, with a hint of vanilla. They had a coarse-ish crumb, typical of butter based cakes, even though this recipe called for oil. The cocoa powder is sort of moot, as you don't taste it at all. I may try this recipe in the future with more cocoa powder, but as written I thought it was fabulous. Oh, I also only used 2 tsp. food coloring, and it was plenty green. I didn't make the cream cheese frosting. I put a fluffy 7-minute frosting on top. Yum! 3 days later I'm still eating them. They have dried out a bit, but are still tasty. I recommend drinking some hot tea or coffee with them, though, as the sweetness can leave your mouth with a coating. This recipe is definitely a keeper.

 

I am a fairly experienced baker, rarely flopping my bakery items- this one wasn't great. I did use 1/4 cup of cocoa as that is what I have used in the past. These were by far the driest cupcakes I have ever made. It was quite a disappointment. The batter was fluffy and tasted great, however, I cooked as directed, even checked on them at 15 minutes, they definitely needed the 18-20 minutes to bake for regular sized cupcakes. And the icing recipe makes a ton! I like a lot of icing on my cupcakes, I made 2/3 of the recipe and I still have about 2 cups of icing left over (the recipe made 28 regular sized cupcakes for me). The taste is pretty good, but I am definitely disappointed with the dryness of them.

 
Tweaks
I doubled the recipe and made jumbo cupcakes for a bake sale and they sold out in a hurry. I used cake flour instead of all- purpose, increased to amount of cocoa to 1/4 cup and topped them with gobs of cream cheese frosting. There were lots of happy customers with a sugar high that day. Will use this recipe again and again. Update: I've also made a few 3-layer red velvet cakes using this recipe. My friends now say I make the best red velvet cake in town.