PanNan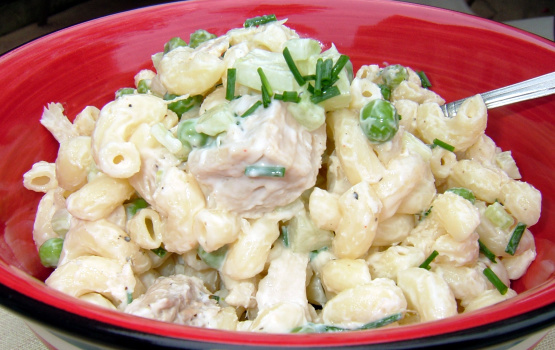 Some of the best recipes are the most simple. This is one of those. I prefer it just as written, but you may add any ingredients you choose such as chopped onion, scallions, chives, water chestnuts, chopped hard-boiled eggs, lemon-pepper, dill, parsley, etc. I often take this to potlucks when I need a quick and easy (and economical) dish. I've never had to take home left-overs. Tuna pasta salads can be found at many pot lucks. Albacore tuna is plentiful on the Pacific Coast, and this recipe represents the Western U.S.

This was a yummy salad! It was creamy and delicious, and the peas added just the right flavor. I originally gave this recipe 4 stars, but I just had the leftovers for lunch and added some miracle whip instead of mayo, and it was even better! I guess the miracle whip added the extra zip I was looking for. I'm upping my rating! I'll definitely be making this again. Thanks, PanNan!
Combine the cooked and drained pasta with the drained tuna, chopped celery, peas, and mayonnaise, using only enough mayonnaise for the salad to be creamy.
(If it's made ahead, you may need more because the pasta will absorb the mayo.) Chill at least 1- 2 hours before serving.