Prep 15 mins
Cook 25 mins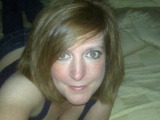 This is from a lady I work with. I'm not sure where she got it, but it is the best potato soup I've ever had.
Directions
Melt margarine in stock pot.
Add chopped onion and garlic to margarine and saute until wilted.
Add potatoes and cover with stock. Simmer until potatoes are tender.
Stir in milk and cheese.
Leave as is, or puree with an immersion blender.
Top with your choice of bacon, additional cheese, green onion, etc.
Most Helpful
Yum. I added some salt since I used low sodium chicken stock. I also used butter instead of margarine. I had never made potato soup before, and this was so simple. I had no evaporated milk, so I used regular 2%. Thanks for a great recipe!

I served this to my father-in-law. He is very critical of my cooking. He pronounced this potato soup the best he ever had. High praises indeed. Mick
My wife and I are big lovers of potato soup. Loved your recipe. Texture was just right. We added a little Parsley, and a dash of salt as well. Enjoyed your recipe very much. Joe