Bergy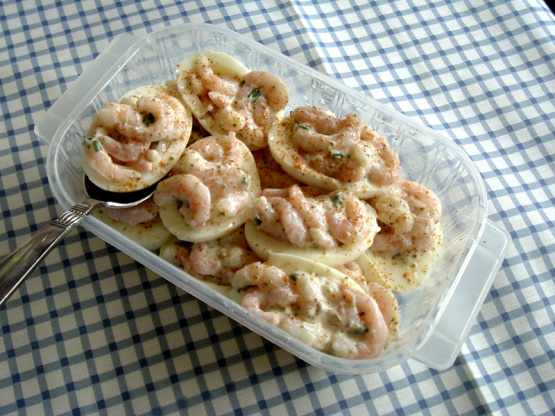 I use the unused yolks crumbled for topping on a salad, or you can mix with mayo, celery seed, salt, and chives, etc., for a sandwich spread, like a tea sandwich. The time I posted is for using already cooked shrimp and already boiled eggs.

These were devoured as soon as they hit the potluck table! I chopped the shrimp, but put one small whole one on top for aesthetics. They looked really nice, especially in a variety-spread which included Recipe #55943 and Recipe #192196. Thanks for the recipe!
In a medium bowl, mix shrimp, mayonnaise, celery seed, salt and chives.
Halve eggs lengthwise; scoop out yolks (save for another use).
Fill whites with shrimp mixture.
Refrigerate before serving.