Shirley's Shrimp Potato Salad
Parsley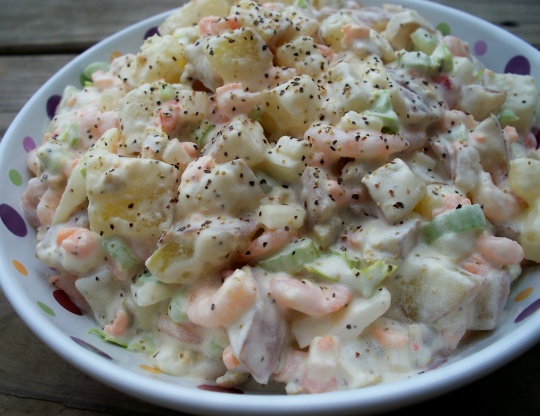 This is a cool and refreshing salad that my mom used to make a lot, and my family has enjoyed for years. I know you will too! It's great at cookouts, picnics, family gatherings, wedding and baby showers, or just at home for the family...From my family to yours, ENJOY!

This potato salad is excellent! Everyone asked me where I got the recipe and I told them on Recipezaar of course! The shrimp and olives really add depth and loads of flavor. A new favorite for all of us!
Rinse off potatoes to clean, and boil in salted water, until fork inserted goes in easily.
Do not over-cook potatoes, or potato salad will be mushy.
When potatoes are done drain right away, peel and let cool.
Put in refrigerator to chill.
When chilled completely, cut them up into med.
sized cubes and put in a lg bowl.
Put back into fridge to keep chilled.
Meanwhile, cut up celery, green pepper, carrots and olives into finely minced pieces.
Add to potato mixture.
Open can of shrimp and drain well.
Rinse off shrimp in the can, and squeeze dry with can cover before removing from can.
Flake shrimp well between fingers and add to potato and veggie mixture.
Mix mayonnaise into salad and add salt and pepper to taste.
Refrigerate until ready to eat.
When ready to serve, place potato salad on a few leaves of lettuce.
Serve with cucumber wedges.
Variations:.
Try adding 1/2 of a lg sweet onion, minced finely.
Try adding 6 hard boiled eggs, mashed finely.
Serve in a lg cucumber, sliced lengthwise and seeds removed.
Serve in a hollowed out fresh tomato.
Serve in a hollowed out green bell pepper.