Shelly's Chicken and Zucchini Couscous
-Sylvie-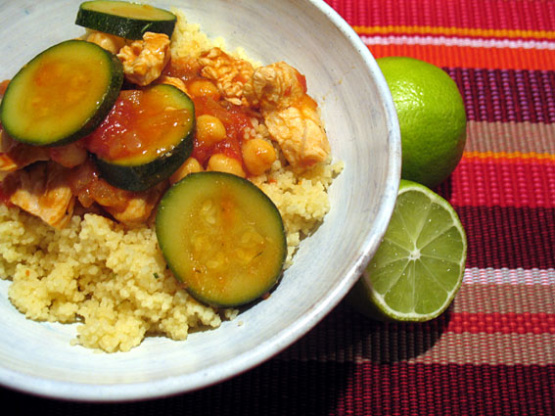 This recipe was originally posted by my friend, Shelly, and I adopted it after she left the site. She told me that she found it on Cooking.com and the original recipe included instructions to cook the chicken separately. Being a woman after my own heart, Shelly decided that there was no point in dirtying another pan and tossed the chicken into the stew to simmer. It works well with no ill effects. When I prepared this, I omitted the chickpeas, as they are a texture and flavor that I don't enjoy, and upped the amount of zucchini to include 3 small ones. My hubby is sometimes sceptical of tomato and rice dishes (and couscous is very close to rice in his opinion) and also is unsure of lemon in savory dishes, but he helped himself to seconds and commented on the fresh flavor of the dish. I think that makes it a winner.

This was a very quick and tasty dish to make. I followed the recipe apart from using turkey breast filets and lime juice, because I was out of lemons. The sauce is nice and zingy with a subtle kick from the cayenne pepper. A great way to serve couscous. I'll be making this again. Thanks for sharing.
In large pot, heat oil, add 1/4 tsp of salt and chopped onion.
Cook until translucent, about 5 minutes.
Add garlic, ginger, paprika, cumin, oregano, cayenne and turmeric and cook, stirring for 1 minute.
Add broth, tomatoes and remaining 1 1/4 tsp salt.
Bring to a simmer and cook, covered for 10 minutes.
Add chicken, chickpeas, zucchini and bring back to a simmer.
Cook, covered, until chicken and zucchini are just done, about 12 minutes longer.
Add parsley and lemon juice and just let it"hang out" for several minutes or more-- does it good in my opinion.
Serve over couscous.