Hey Jude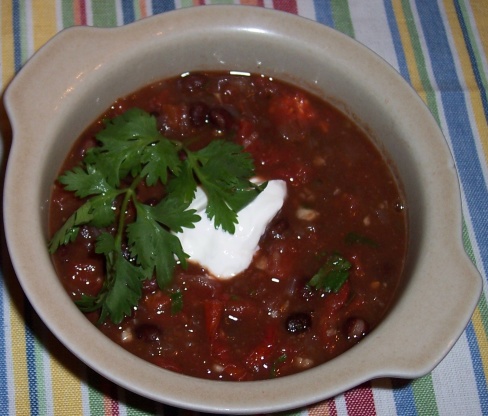 I was shopping in a Bulk Food Store one day and overheard a young man asking the clerk where some ingredients would be....said he had to buy for "the best black bean soup in the world"...had the recipe in his hand. Long story short....clerk made a copy for me, and he was right!! Turns out, I see now as I go to post, that it is from 'Moosewood Restaurant Cooks at Home'. I had never heard of Moosewood Restaurant 'til I came to 'Zaar.....must be a super place to eat! Prep. time includes cook time.

This is a cross between chili and black bean soup, IMO. It wasn't bad for a vegetarian black bean soup. My tomatoes were also julienne sliced. I used 1 c. Also, I prefer whole canned tomatoes instead of diced. I cut them when I put them in the soup. Next time, I will blend everything except one can of black beans. I think the cilantro really makes this soup.
Cover the sundried tomatoes with the boiling water and set aside.
In a large pot heat oil and saute the onions, garlic and jalapeno pepper, stirring frequently until soft.
Add the cumin, 1/3 cup water and tomatoes.
(Break up large chunks if you haven't already zapped them.).
Bring to a boil.
Cover and simmer over low heat for 5 minute.
Add the undrained black beans and continue to simmer, stirring occasionally to prevent sticking.
Drain and chop the sundried tomatoes and add to soup.
Cook 5-10 minutes longer.
Stir in cilantro and remove from heat.
Puree half the soup in food processor or blender and return to pot.
If soup is too thick, add some water or tomato juice if you prefer.
Serve with a dollop of sour cream.