ChefLee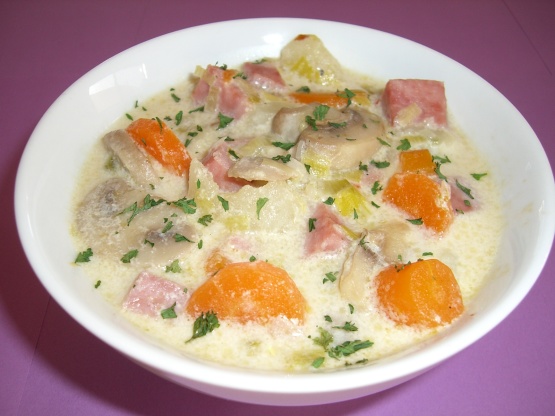 Shakespeare writes a long part about leeks in his play Henry V. This vegetable has been celebrated throughout history by everyone from Roman Emperor Nero to Ernest Hemingway. I invented this soup because I wanted to put my own flavors to this historical vegetable! I hope you enjoy it!
Heat oil in a large soup pot. Add garlic and jalapeno and saute for 1 minute.
Pour in water and chicken broth and bring to a boil then add leeks, carrots, and potatoes. Stir and bring back up to a boil.
Add Lawry's, pepper, crushed red pepper, lemon juice, and ginger.
Add ham, mushrooms, then half-n-half.
Stir and simmer on med-low heat for 30 minutes, stirring occasionally.