Sesame-Ginger Pasta With Shrimp and Scallops
teresas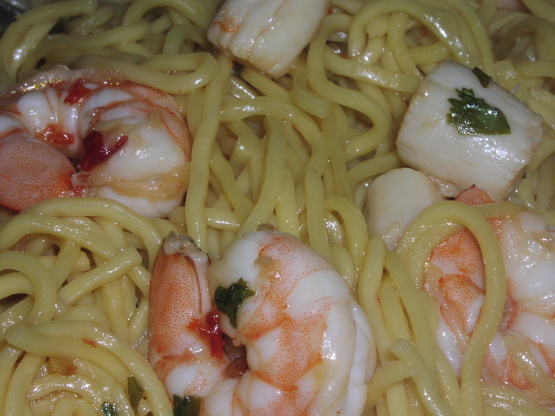 My mom found this recipe years ago, and it is still of the most often made (or at least craved) meals. Packed with flavor, this dish is sure to excite your taste buds!

This was phenomenal! I used 2 lbs scallops (quartered) and 2 packages of Udan Asian noodles (We like lots of left-overs). I also doubled the sauce and added 1 extra teaspoon of the chili sauce. My husband said, "Honey that was really delicious. Thank you so much." So this is definitely a keeper! :o) BTW, I think this would be good with beef strips as well.
Combine all ingredients (except shrimp and scallops) and stir gently.
I generally will make the sauce the night before to allow the flavors to soak in together, but letting the sauce sit for an hour will do perfectly as well.
Cook shrimp and scallops in sauce for about 10 minutes.
Mix sauce with noodles and enjoy!