Seared Scallops With Ginger-Thyme Pan Sauce
CarolAT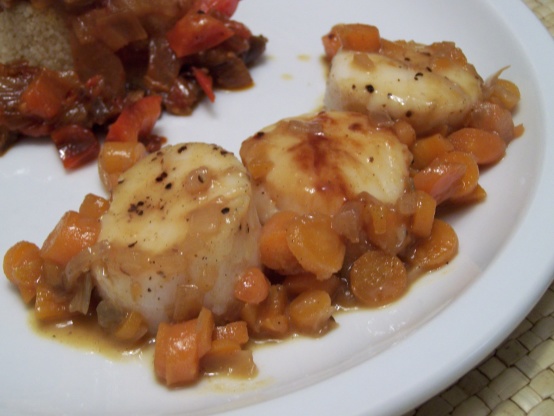 I saw this Ming Tai scallop recipe prepared on the Today show and I just had to try it. The pan seared scallops were definitely flavorful. These scallops were prepared for a dinner with great results.
Have a saute pan over medium-hihg heat coated lightly with oil. Season the scallops and sear about 3 minutes until golden brown. Set aside.
In same pan, add 1 teaspoon butter and sweat the shallots, ginger and carrots. Season with salt and pepper.
Deglaze the pan with wine and add thyme and stock. Simmer and reduce by half.
Whisk in butter, check for seasoning and adjust. Plate the scallops and sauce.