Annacia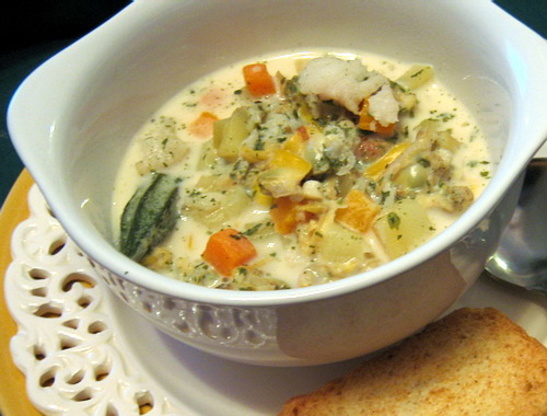 Mr.D's chowda, my brother in law born in the south and myself a new englander, this was created for him without losing the new england flavor.

This is a 5 start for taste! I made a much lightened version of this chowder as the amount of calories in one serving is my entire days allotment (1200). I omitted the salt pork and cooked the veggies in a small bit of water that was almost gone when it came time to add the milks. I used skim milk and fat free evap milk and 1 very small white potato (about 1/4 cup diced). It was the clam broth that made this so good and as catfish isn't available here I used a small piece of cod. Aside from removing the fat I used all the veggies ask for and seasoning so I do feel that I kept to the heart and spirit of this soup. After saying all of that, I truly loved it - I never thought of adding okra to seafood before. Thank you for sharing an excellent and adaptable recipe.
In a soup pot, render the salt pork until just crisp, remove and discard.
cook the onion, celery, and carrots in the pork fat until tender.
add the potatoes, okra, corn, clams+juice, and fish.
cover with milk and heavy cream.
add basil, old bay, salt&pepper.
bring to boil and let simmer until potatoes are soft.
add chopped parsley.