Scrambled Eggs over Fresh Sliced Tomatoes and Basil
Derf2440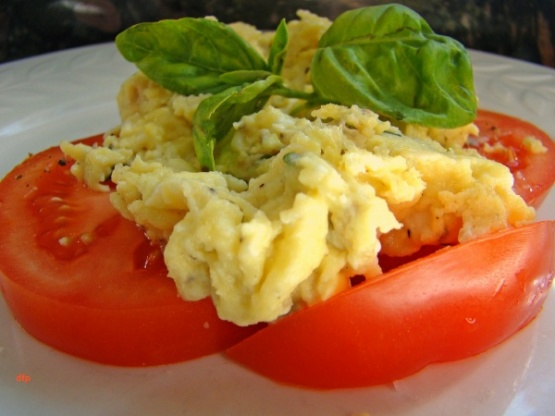 A simple and quick low fat, healthy breakfast of Scrambled Eggs over Garden fresh sliced Tomatoes and Basil. Add if you want even a healthier version go for just egg whites.

A lovely flavourful way to serve scrambled eggs. loved the combination of basil, eggs and tomaoto and will use it often for a quick meal. Thanks for sharing a tasty repeater!
Beat eggs slightly with fork adding 2 minced basil leaves, pepper, and a 1/2 teaspoon water.
Heat pan, spray Pam, add the mixture.
Cook until of creamy consistency, stirring and scraping from bottom of the pan.
Sliced and plate the tomato top with scrambled eggs and garnish with basil and season with salt and pepper.