Country Sausage Gravy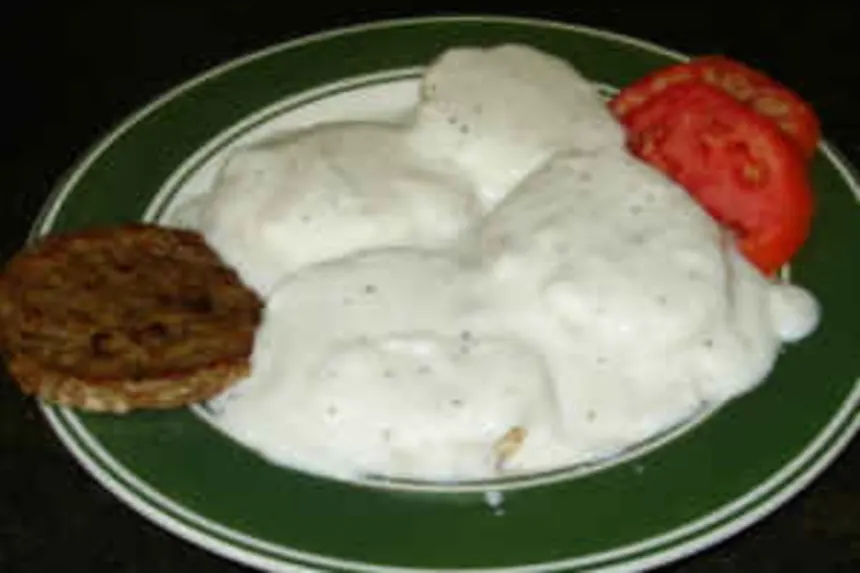 photo by sal manilla

Ready In:

35mins

Ingredients:

6
directions
Brown the pork sausage in a large skillet over medium-high heat.
Set aside, leaving the drippings in the skillet.
Stir the butter or bacon grease into the sausage drippings.
Reduce the heat to medium, add the flour, stirring constantly until the mixture turns a golden brown.
Gradually whisk the milk into skillet.
Once the mixture is smooth, thickened, and begins to bubble, return the sausage to skillet.
Season with salt and pepper.
Reduce the heat and simmer for about 15 more minutes.
Questions & Replies

Got a question?
Share it with the community!
Reviews
Made this for my boyfriend and he loves country gravy over biscuits. It was very easy to make. I didnt remove the meat from the grease. I added a little butter then the flour. I eyeballed the amount of milk i used.. Adding more until it was creamy. Didn't add much salt. But I took a tip from another commenter and added italian seasoning and a little ground sage. Came out perfect and it was so easy to make. Next time I think I'll dice up some onion really small.

 

Thanks so much for sharing this wonderful recipe! I found this & made it the next morning for hubby, which is rare for me--I tend to "mull over" a recipe carefully b/f taking it into the kitchen! I used homemade turkey sausage which I cooked beforehand, then melted 1 tbsp light butter & used the whole amt of milk directed in recipe. Actually, I ended up needing to add a few more tbsp of milk to keep it creamy, but I think that was cuz I simmered it on too high of heat at first. I added more salt & pepper cuz hubby likes that, and served it over a toasted whole wheat English muffin. He loved it & was so happy to have found this for him. Thanks again!

 

Had some leftover biscuits from a casserole Wifee fixed the night before. Saw this recipe and figured, although I had never before made gravy, even I could make this simple recipe edible. Used JD link sausages (diced) because that's all we had in the fridge. Added about a tbsp. of flour about half way through because it didn't seem like it was going to be thick enough. Turned out I didn't need to do that as it was plenty thick. Should have added cooking time and patience instead. Turned out yummy. Even Wifee, who is not a big fan of B & G, said it was great. Chez Don

 

Very easy to make. I love a good sausage gravy and this is very similar to the gravy my grandma made. No fancy spices or add ins. It's just plain simple gravy. I only used two cups of milk because I like my gravy thick. I let the gravy sit about 20 minutes which allowed it to thicken more. I would suggest you try the two cups of milk first and add more as needed up to the three cups.

 
Tweaks
This is great, thank you Mercy! I kind of winged it this morning and did something quite different but very similar (lol), so I came online to find a more traditional recipe to double check my guesswork against, and base my next batch of concoction on. It's actually using the leftovers from a sausage grilling recipe I use. It's really tasty and I'll briefly describe it below, but what you end up with for making the country gravy is a jar of beer that's been boiled with sausages in it, full of flavor, fat and juices. With that mixture I did pretty much what you described here, plus added some spices like fennel seed, bay leaf and a splash of cider vinegar, used an immersion blender to smooth it out and then added some small chunks of raw, ground pork sausage. But I should've thought of the milk! That's what was missing! Maybe even buttermilk could work? Anyway here's that grilling recipe. Fire up the grill and while the coals get ready, boil a 12 oz beer with a ½ teaspoon of salt (for temperature, but also any spices you'd like) in a 6" pot with lid. Once the coals are about ready and the timing is going to be right, add two pork sausage, the half-pounders, to the beer and roll the water, flipping the meat once or twice, until parboiled (maybe 5 - 10 minutes, depending on how hard you roll that boil). Pull them out and plop 'em right on the hottest flame until crispy outside and cooked thoroughly inside, nice'n juicy. nom nom nom nom nom When you take them out of the beer, they're hopefully not fully cooked but /almost/ hot enough through to the center, still some raw inside. This way, you can perfectly char the skin and keep all that juicy beer and pork flavor in. Go ahead and reuse the beer to make more than two sausage, and even use 2 beers to cook more sausages at once. After the BBQ you can just save the beer in a jar in the fridge for breakfast next day. Also, you could just chop the sausages from this recipe into the gravy right away, even forego the grill for a frying pan and skip the whole BBQ part.

 
RECIPE SUBMITTED BY
Greetings everyone! My name is Mary and I am a native Floridian. I live in Central Florida with my wonderful husband of 13+ years. I enjoy cooking simple dishes with simple ingredients.
View Full Profile