Scarborough Fair - Savoury Bacon, Onion and Herb Bread Pudding

I named this dish after my home town, Scarborough, in the North of England - and yes, they really do have a "Scarborough Fayre" every year! And, this recipe does contain "parsley, sage, rosemary and thyme"! This is a very old recipe for savoury bread pudding - often served before the meal, just as Yorkshire Pudding used to be, to take the edge of your appetite & stop you eating too much meat! I added the bacon, but normally it is just made with pounded stale bread mixed with herbs, chives or onions, eggs and any dripping that was available. A delicious savoury dish - serve it with lashings of onion gravy as a light supper, brunch or lunch dish, or as an appetiser, also with gravy. This makes a wonderful accompaniment to roast pork and roast chicken. I have also been known to eat slices of this cold & it's ideal for picnics. Don't throw your crusts away, but process them in a food mixer and freeze them in zip-lock bags.....voila, ready made bread crumbs!
Directions
Pre-heat oven to 190C/375F/gas mark 5.
Grease a large baking dish or tray about 12" by 8" in size.
Tear the bread into small pieces and pour the hot stock over the bread - mix well and allow to soak for about 1 hour.
Meanwhile, cook the bacon over a medium to high heat; as soon as the fat starts to run, add the chopped onions. Stirring the bacon and onions constantly, cook them together for about 15-20 minutes, or until the onions are soft and the bacon is crisp.
Add the bacon and onion mixture to the soaked bread and mix well.
Add the rest of the ingredients - continue to mix them together thoroughly.
Pour the bread pudding into the greased dish or tray, level the mixture out with a spoon and bake for 40 to 50 minutes until well risen, firm to the touch and golden brown.
Take out of the oven and allow to "rest" for 5 minutes before cutting into squares.
Serves 4 people as a light supper or lunch dish with gravy and 6 people as an appetiser, also with gravy if you wish.
Also great for picnics, brunch or breakfast.
Most Helpful
Herby and yummy!
It's a cold, rainy night, and this recipe has long looked to me like real comfort food. Tonight at last it was made, to go with a lemon-herb roast chicken, brussels sprouts, and a mixed salad. I followed instructions, but had doubts about the bread: our usual brown "government loaf" as we call it. As I followed the recipe, my doubts increased. I thought: "This kite won't fly", as my son puts it when something does not work. I used only 2 large onions, purely because the sweet onion season has passed, I only have strong onions, and after peeling and chopping two, my eyes were burning and I was in tears ...!! And so I carried on, doubtful, having visions of throwing all this out to the birds and never mentioning that I tried the recipe. Well... it baked alongside the chicken (convection ovens are great!) and looked fine when done. Then I found out that DH would not be home for a long while and it had to sit in a warming oven with the rest of the food for ... at least 1 1/2 hours! The rain poured down as we sat down to eat. To my surprise we found that this "bread pudding" was absolutely great!! A wonderful side dish which reminded me so much of my mother's chicken stuffing. VERY comforting and a nice carb change instead of potatoes or rice. I did use quite a lot more fresh herbs than stated: the fresh sage, Italian parsley and origanum just smelled so fantastic as I chopped it! I did not have fresh rosemary, so used more origanum. I also added a little garlic. With this dish, and the chicken, in the oven, the house smelled heavenly and I could almost see the scent wafting out the windows in the grey weather! I think this would be equally good with any "old" or plain white bread. I am afraid, very afraid, of the leftovers, and how much I love leftovers for breakfast ... We are only two in tne house, and I made the entire large recipe ... I'll roll down your driveway one of these days, French Tart!!! NB, LATEST REPORT: DH said to post that the leftovers I heated up last night was almost better than the fresh pudding! He scoffed the lot, as snacks, even long after I went to bed!!! POSTED 5 JAN 2008: Made this for a game in the Photo Forum yet again (maybe 3rd or 4th time!!) It's as great as always. Perfect, perfect comfort food, redolent of childhood winters. One bit of advice: as before I use MUCH more fresh chopped herbs than in the recipe. It is fantastic to actually taste the different herbs in this Medieval-type dish. I probably used considerably more than 1 tablespoon, chopped, of the herbs. We are only two people eating, and there will be leftovers, and that will be my breakfast. (Groannnn .... ) I'll never be thin again ... LOL!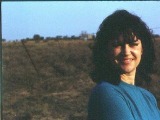 Not our cup of tea, tasted way to like stuffing, which was enough to put me off as I don't fancy eating stuffing as a meal or snack!