Sauteed Red Cabbage With Apples
Alia55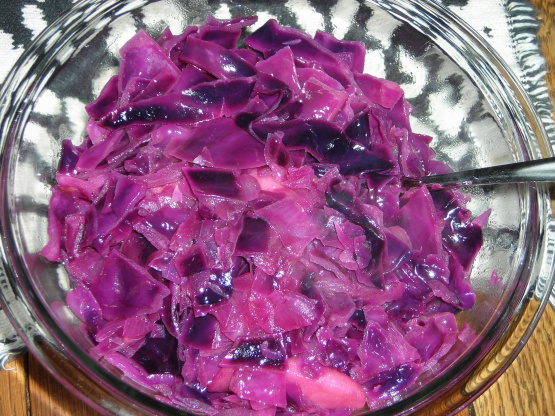 This is a very pretty purple dish. Great with sausage or corned beef.
Remove outside leaves of cabbage.
With a sharp knife, chop cabbage into small pieces. Throw into colander and rinse.
In large stovetop pot with lid, melt 2 teaspoons of butter at medium-high.
Add onion to pan and sauté.
Add chopped cabbage to pan.
Peel apples, chop and add to pan.
Combine water with vinegar, add brown sugar and bay leaves and stir.
Pour liquid over cabbage mixture.
Bring mixture to a boil then cover and reduce heat to a low simmer for 25-35 minutes.