I am not usually one for cooked carrots, so I am not sure what possessed me to make these, but I am glad I did. The sauce is sweet and tangy, and the perfect accompaniment to the carrots. This recipe is courtesy of the Junior Leage of Little Rock. It serves 2 nicely, but you can easily double for more.
Directions
Slice carrot into rounds or chunks.
Cover with salted water in saucepan, bring to a boil.
Simmer 10 minutes or until tender.
Drain.
Meanwhile, combine remaining ingredients in small saucepan.
Heat over medium, stirring constantly until blended.
Pour sauce over carrots and gently toss.
Most Helpful
Very easy veggie. Took about 3 minutes to get the sauce done. I use those bagged baby carrots. I added some dried dill after tossing. Loved the flavor.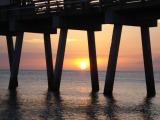 Very easy, doesn't require a lot of time. Tasted really great. Will make again.
Delicious carrots. Just the right amount of sauce. :)