Prep 15 mins
Cook 15 mins

I found this recipe posted in our daily paper, and ever since I made them, I've never turned back......seriously, if you don't like them.......no wait, thats impossible...do yourself a favor and try these!!! Feel free to double or triple the recipe, the results will be the same....Succulant.
Directions
In a medium bowl, mix first 3 ingrediants.
Season with salt and pepper.
Let stand a few minutes until milk is absorbed.
Shape into 6 patties, or 4-5 bigger ones (however you like em).
In a small saucepan mix the next 6 ingrediants, and bring to a boil over medium heat-- reduce the heat and simmer for 5 minutes.
Set aside.
Heat grill, to medium high, and baste all the patties with the sauce.
Place on the hot grill and baste the other side.
Close the lid.
Wait about 3-4 minutes, and when the burgers lift from the grate they're ready to turn, flip and baste again, and close the lid for 2-3 minutes depending on the size.
Baste for the last time and place a slice of cheese on top.
Turn off the heat and close the lid till cheese is melted about 2 minutes.
Dress buns and ENJOY!
Most Helpful
This was a nice change of pace from the typical burger. I made this exactly as posted, but didn't really care for the rolled oats. I think next time I would just use plain ground beef. The ingredients for the sauce made a very flavorful addition to the burger, sort of like barbecue sauce, but better. I used a smoked gouda for the cheese, which was nice. I especially appreciated the cooking method, as I tend to overcook things on the grill and this solved that problem! Thanks for sharing.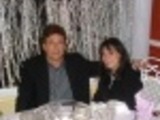 The glaze was great! Though the texture of the burger was too dry and 'meally'(not sure if that is an actual word :)). I do believe I used the incorrect rolled oats, I used the type found by the flour in supermarkets-not the one in the cereal aisle (quick or old fashioned). Mine were actually labled 'rolled oats-extra thick'. But overall I would still say this was a good burger because of the sweet glaze. Thanks!