BigJoe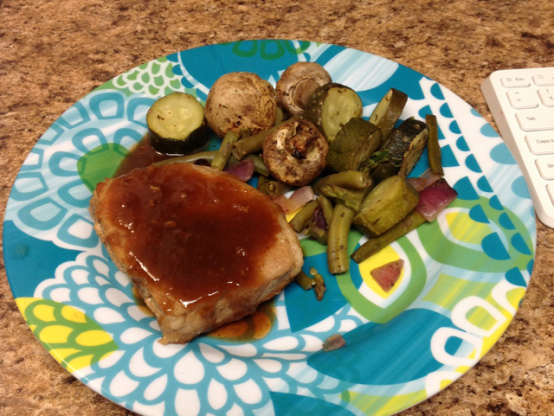 This is a unique and tasty way to serve pork chops. The sauce is sooo tasty. This dish goes well with rice and a cooked veggie. Yummy!

Top Review by Kim D.
Manda... these pork chops were AWESOME! I normally bread my pork chops and bake them, which my family seems to like, but I was in the mood to try something different... boy was I glad I did! My husband normally doesn't say much when I try out a new recipe, but he really loved these! I followed the recipe almost exactly, except that I didn't thicken the sauce with the cornstarch. I accidently over looked that step. I will definitely be making these again! Thanks for posting! -Kim :)
Heat 1 Tablespoon oil in skillet, and brown chops on both sides.
Meanwhile, combine the 2 teaspoon oil, broth or sherry, brown sugar, soy sauce, red pepper, and black pepper.
Add garlic to pork chops, and pour sauce mixture over everything.
Cover and simmer 30 minutes, adding 1-2 Tablespoon of water if needed to keep sauce from cooking down too much.
Turn chops once.
Remove chops to platter.
In pan, stir in cornstarch dissolved in 2 Tablespoon of water.
Cook until thickened.
Pour over chops and serve.