Leeza898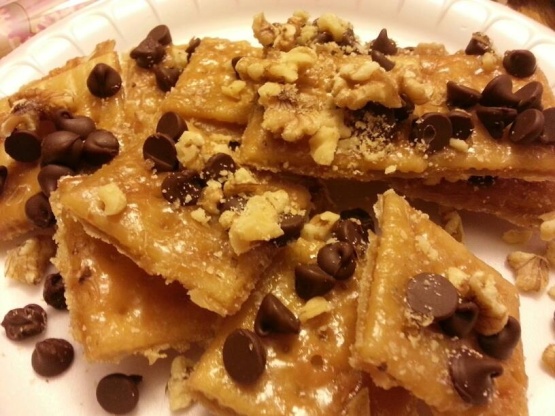 These are fantastic! Don't let the thought of saltine crackers turn you away. You won't believe how delicious these turn out!

Quick, easy and tasty. Reminds me of chocolate covered toffee. I halved the recipe and put it in a 9 x 13 pyrex. (used 15 saltines -they fit well and half of everything else). Put sliced almonds on the top. Yummy!
1

cup butter (do NOT use margarine)

1

cup light brown sugar

1

(11 ounce) package chocolate chips (1 1/2 cups)

40

saltine crackers

1

cup chopped pecans (whatever you like, optional, optional) (optional) or 1 cup walnuts (whatever you like) (optional)
nonstick cooking spray
Line jelly roll pan with foil and spray with non-stick spray.
Lay crackers out flat on foil.
Melt sugar and butter until foamy (3 minutes).
Pour over crackers and spread to coat.
Bake 10 minutes in 350ºF oven.
Remove from oven.
While hot, sprinkle with chocolate chips, let soften and melt, then spread.
Sprinkle with nuts.
Let cool.
Refrigerate until hardened.
Break into pieces like peanut brittle.
Serves one, hee hee, two if you share!