Salsa Stoup - Rachael Ray 30 Minute Meals
R.Lynn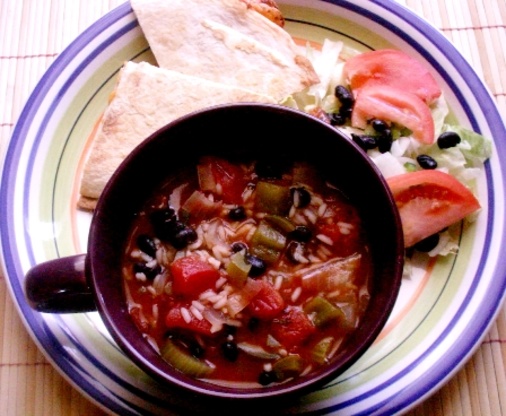 This is actually a really good end of the week-use up all the veggies kind of stoup. It makes a great lunch! I added black beans I had leftover from taco night and I also added rice. The jalapeno doesn't make it too hot either. If you don't like the heat of a jalapeno, they can definately be omitted all together and this would still be great!

This has become one of our favorite Rachel recipes. The only thing I add is some chicken. If I have time I roast it or poach it myself. If not, in true Rachel style, I let the grocery store do it for me and just buy a roasted chicken which I shred into the stoup. Delicious!
Heat a medium soup pot over medium-high heat.
Add 2 tablespoons extra-virgin olive oil, 2 turns of the pan and the jalapenos, bell pepper, onions, celery and garlic. Season with salt and pepper then saute veggies 5 minutes.
Add tomatoes, crushed tomatoes and stock and bring soup to a bubble.
Reduce heat to a simmer and stir in cilantro.