Salsa Meatballs Browned in Garlic Oil
Rita1652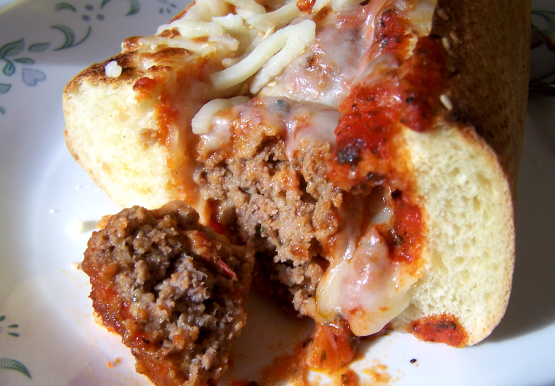 The meatballs have just a hint of salsa they are moist and tender. I came up with this when I jarred some salsa. I had some extra that didn't fit into the jars so into the ground meat it went. I was thinking I was making hamburgers but made it to moist so in went bread crumbs next thing I knew I was rolling them into balls and browning them in garlic flavored oil. You can serve just browned, in your favorite sauce over pasta or in a sandwich.

These meatballs were easy to make and tasty and browned perfectly in my electric skillet. I did use ground round and doubled the amount as the meat mixture seemed to wet. For the pasta sauce I used garlic and onion flavor which went well with the meatballs. Thank you Rita!
meatballs

vegetable oil (for frying)

6

garlic cloves, lightly crushed

2

cups ground beef
3⁄4 cup seasoned bread crumbs
3⁄4 cup salsa, strained (reserving liquid for pasta sauce)

1

egg, slightly beaten

1

tablespoon Worcestershire sauce

Pasta Sauce

1

tablespoon olive oil

1

large onion, diced

1

tablespoon dried Italian herb seasoning

1

tablespoon fresh minced basil

2

quarts prepared pasta sauce
Meatballs:.
In a large frying pan heat oil over low heat add garlic and let simmer while mixing meatballs.
In a large bowl mix ground beef,.
bread crumbs, salsa, egg, and Worcestershire sauce just till blended and form into balls.
Raise heat to medium remove the golden browned garlic and reserve for pasta sauce.
Brown meatballs in oil turning to brown on all sides.
If they are sticking to pan that means they are not ready to be turned.
Sauce:.
In a large pot heat oil add onions till translucent.
Mince golden browned garlic and add to the onions adding the reserved salsa liquid and herbs.
Place the meatballs on the onion mixture and pour the prepared sauce over and simmer for 10 minutes over medium low heat. Gentle stirring after 5 minutes.