MsSally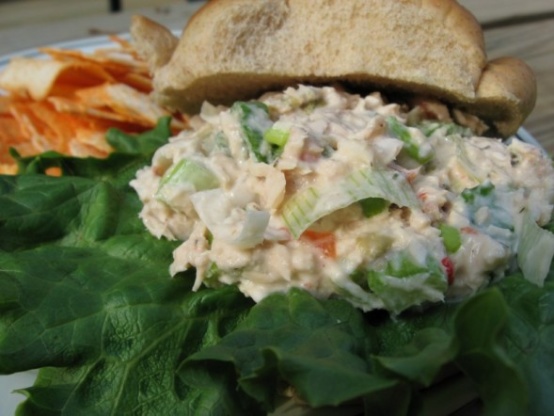 This is for salmon lovers. I made as a dip but it can be served as a salad, or a wrap or in your favorite bread. Addion of chopped olives in this is also yummy! And if you don't enjoy eat it because it's good for you! ;) Salmon is low in calories and saturated fat, and high in protein, and a healthy fat, the omega-3 essential fatty acids.Which are essential for human health but because they cannot be made by the body, they must be obtained from foods. Wild-caught salmon, are higher in omega-3 fatty acids than warm water fish. Besides an excellent source of omega-3s, salmon are an excellent source of selenium, a very good source of protein, niacin and vitamin B12, and a good source of phosphorous, magnesium and vitamin B6.

Top Review by JeffR
I didn't care for this at all, especially after putting the time into roasting the pepper. To be fair, this is the second "fancy" salmon salad recipe I've tried and I didn't like the other one either. I think I'm going back to mayo, relish and mustard :-)
Mix all the ingredients together in a bowl.
Serve on a bed of greens for low carb.
Or serve with bagel chips or on your favorite bread.