Boomette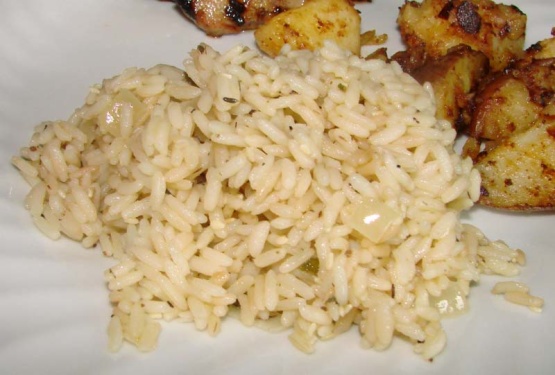 i needed a rice recipe to go with some kabobs that i was making and i decided to alter my spanish rice recipe to have a more asian feel....this is what i threw together & i have to say, it came out really good!!

I used dehydrated onions because I was out of fresh. Skipped the butter and increased the sesame oil to 1/2 tsp & I used black sesame seeds. I use jasmine rice and poured everything into my rice cooker and voila! It was a truly delightful side dish! TY!
add water, all of the seasonings except the butter & half of the seasame seeds to a microwave safe measuring cup & heat in the microwave for 2 minutes to dissolve the bullion, set aside.
brown rice in hot oil in a large skillet for approximately 5 minutes.
add chopped onion, minced garlic & saute til onions are soft.
add seasoned water to the browned rice, reduce heat to low, cover and simmer for 15 minutes.
do not check on the rice before the 15 minutes is up, this will allow steam to escape and may make your rice turn out undercooked.
after 15 minutes uncover, turn rice over, place butter pats on top recover & let steam for 3-5 more minutes.
fluff with a fork to distribute the butter, sprinkle with remaining sesame seeds & serve.