Pamela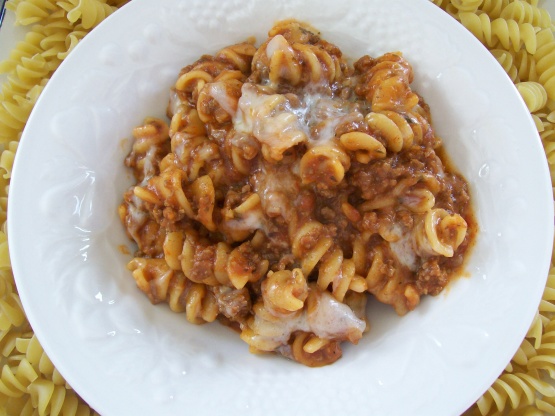 I know the title is somewhat vague, but this is what we called it growing up. This is a great recipe, because the ingredients are ones I often have on hand. It makes a lot and is very comforting. The cheese, pasta, tomato sauce and meat are a tried and true combination!

This was good and easy to make. I like that it was all made in one pot. I followed the recipe as written other then I used crushed tomatoes instead of tomato sauce and beef broth instead of water. I used 2 cups of mozzarella but next time I would use less. I love cheese but I thought it was too much mozzarella. This was a nice quick dinner.
Brown hamburger.
Add onion soup mix, oregano, tomatoes and water.
Bring to a boil, stir in pasta.
Cover and simmer for 20 minutes or until all the water has disappeared.
Stir in parmesean cheese.
Top with mozarella and cover until melted.
Enjoy!