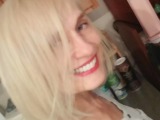 My husband came up with this gluten-free recipe in order to satisfy his craving for corn dogs, my wish to go gluten-free, and to save having to break out the deep fat fryer. He didn't use the beef hot dogs. He made ours with smoked Italian sausage. When he made this recipe, he made them in mini-casserole pans although it could easily be adapted for a single large shallow casserole pan, depending on the size of your hot dogs or sausages. I told him this is so delicious he owed this recipe to the world!
Directions
Preheat oven to 375 degrees Fahrenheit.
Grease eight mini-loaf pans and set aside.
Whisk dry ingredients together in medium or large bowl.
Stir in the remaining ingredients except for the hot dogs.
Pour a half inch of batter into each mini loaf pan.
Place a hot dog on top of the batter in each pan.
Distribute remaining batter over the hot dogs so that the hot dogs are surrounded by batter.
Bake in preheated oven for thirty minutes or until done. Based on your baking pans, you'll need to check for doneness sooner or later.
Note: the dough just over the hot dogs is the last to cook so that's where you can test for doneness.