Rock & Roll Baked Onion Dip
Prep 25 mins
Cook 30 mins

This is a big favorite around the Rock & Roll BBQ Headquarters. It is great with tortilla chips, crackers, or pita bread.
Directions
Preheat oven to 425 degrees Fahrenheit.
Lightly grease a pie pan.
In a bowl MIX everything.
Pour into pie pan.
Bake in the preheated oven about 30 minutes or until lightly browned.
You can sprinkle some shredded cheddar cheese on top and return to oven for a few minutes to melt if you wish.
Most Helpful
Very good - has nice heat! I grated the onion rather than chopping it - made a nice smooth mixture. I used the leftovers (it was a small party) as a spread on smoked sausage on a roll - YUMM!! I am making it again for a party next weekend - Thank you!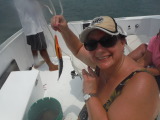 This was very good and the onion lovers really liked it. I used a Texas 1015 sweet onion and followed the recipe exactly. I think the next time I make this ( and there will be a next time! ) I'll add some cayenne pepper to kick it up a bit. The jalapeno I used may have been a mild one because I really couldn't discern any "heat". Thanks for posting this!

This recipe was a HUGE hit recently at a friends' baby shower. I only used 1/2 a jalapeno pepper because the "mommy to be" said that spicy foods didn't agree with her during her pregnancy. She loved it and said it was not too spicy for her (and the baby.) I will definitely be adding this one to my repetoire of "party foods."