Boomette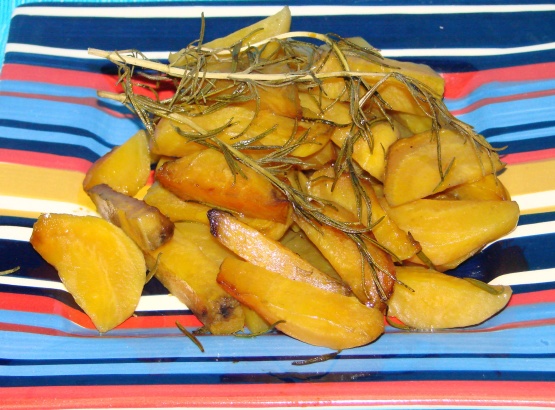 I made this recipe today with orange beets. It's very good with the rosemary. You can substitute thyme for the rosemary. Proceed as directed.

I made this for Friday night and loved it. There was some leftovers, so I let it stand until it reached room temperature, and found it was just as good! I love beets, so I couldn't go wrong with this recipe!
Cut each beet into six wedges; place in a large resealable plastic bag. Add olive oil and salt; seal bag and shake to coat.
Place a piece of heavy-duty foil (about 12 inches long) in a 15-in. x 1-in. baking pan. Arrange beets on foil and top with rosemary. Fold foil around beet mixture and seal tightly.
Bake at 400F for 1-1/4 to 1-1/2 hours or until beets are tender. Open foil carefully to allow steam to escape. Discard rosemary sprigs.
Editor's note : You may make the beets a day ahead, then slice and serve cold in a salad.