Roasted Asparagus With Parmesan
Swirling F.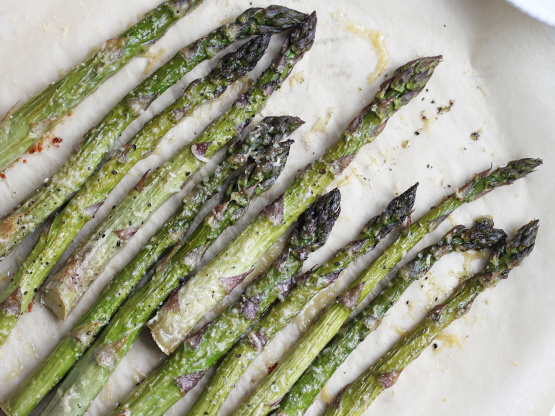 This has to be the quickest and simplest recipe for asparagus that I've ever tried. The asparagus comes out tender crisp just the way I think it should be! From Martha Stewart Living's Everyday Food magazine, June 2004 issue.

I love oven roasted asparagus however; this is the first time I have added Parmesan cheese to it. What a tasty addition! I must admit I combined this recipe with one for oven roasted broccoli (as a way to cut costs since asparagus is over $5.00 here). since the broccoli recipe called for garlic, I used a garlic infused olive oil. I also also sprinkled the vegetables with some red pepper flakes before roasting. I also cut the roasting time back just a pinch...12 minutes gave us perfect tender-crisp veggies! I will definitely be making this again; using asparagus only when it is in peek season and the cost is down. Made and reviewed for the 56th AUS/NZ Recipe Swap.
Preheat oven to 450 degrees F.
Trim and/or peel tough ends from asparagus.
On a rimmed baking sheet, toss asparagus with olive oil.
Season with salt and pepper.
Arrange asparagus in an even layer on the baking sheet.
Sprinkle with Parmesan cheese.
Roast in the oven until asparagus is tender and cheese has melted, about 10 to 15 minutes.
Serve immediately.