Pam-I-Am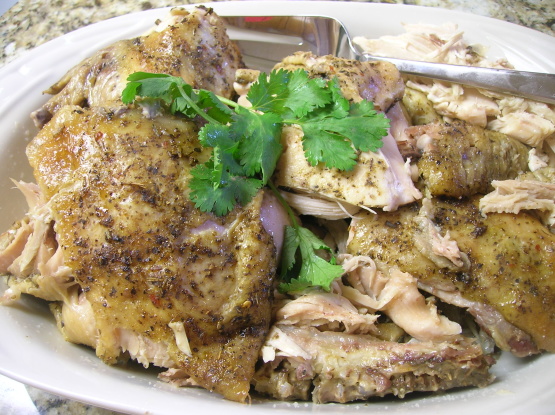 Whole chicken that actually browns in the crock pot. The secret is to place it on top of wadded balls of aluminum foil. Tastes just like it came from the deli.

I am so sorry but this did not work for me. I prepared a 4lb bird and followed all the steps according to the recipe, however when I returned from work the chick was not only not done (11 1/2 hours) but also it was yellowish and rubbery. I was able to take it out of the crockpot and it had no indications of falling apart. I placed it in the oven to finish cooking and browning. We felt it was lacking in flavor as well. Perhaps adding fresh herbs to the cavity, and half a lemon would have bumped up the flavors. Once again I am sorry as I was really excited to have a roast chicken from my crockpot and not have to heat up the kitchen.
Spray chicken with olive oil spray.
Sprinkle with seasoned salt.
Insert onion and garlic inside cavity of chicken.
Spray inside of crock pot with Pam.
Roll wads of aluminum foil into balls and place in bottom of crock pot.
Put chicken back side down on top of aluminum balls.
DO NOT ADD WATER OR ANY LIQUID.
Cover and cook on low for about 10 hours.
Skin will actually turn brown as in a deli roasted chicken.