Crock Pot Cream Cheese Chicken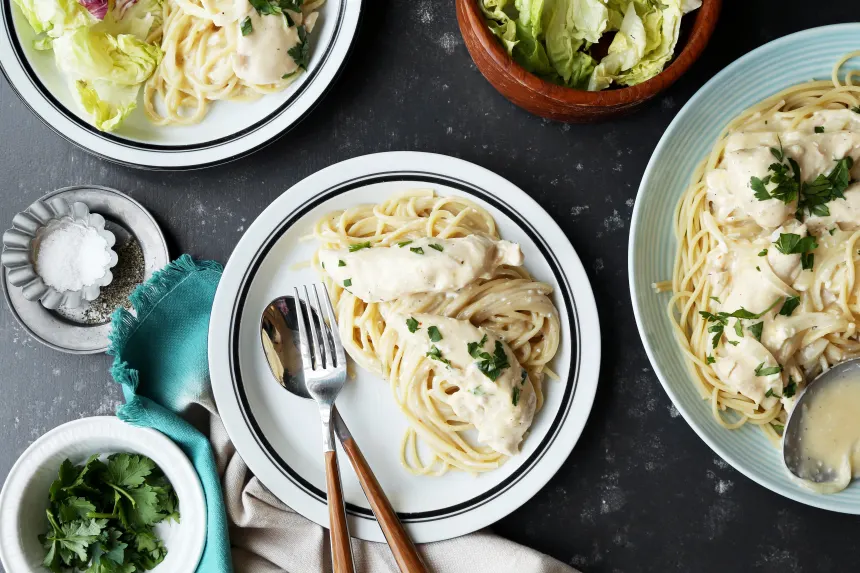 photo by Jonathan Melendez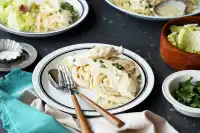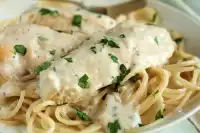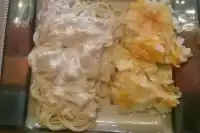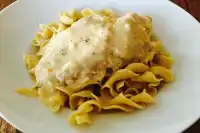 Ready In:

7hrs 20mins

Ingredients:

8
directions
Place chicken pieces in crock pot and sprinkle Italian seasoning over chicken. Sprinkle with 2 tablespoons melted butter.
Cook on low for 4-6 hours.
Melt 2 tablespoons butter in a sauce pan and saute onion and garlic. Add Cream of Chicken Soup, cream cheese, and chicken broth. Stir until smooth.
Add this mixture to crock pot and cook on low for an additional hour.
Questions & Replies

Reviews
This is a really great tasting, easy main dish meal! I made it exactly as written,,,except the time cooked. It actually only takes about 1/2 the 7hrs to cook and I think had I not been here and watched it,,it wouldn't have turned out as well. I think it would have burned around the edges. I intended and started early enough to use your time stated, but after 2 1/2 hrs, turned my crock on the "warm" setting (newer crocks have this setting,,yay) until I added the broth/cream cheese mix. I let this cook on low for 45 min and served over mashed garlic/tarragon potatoes. dh won' t eat rice :( The 2nd best part was the next nite, I shredded the left over chicken,,(I'd taken it out of the sauce)added 1/2cup sour cream, a 4 oz. can of green chilis and 4oz. velveeta cheese to the sauce and some garlic powder. I placed the shredded chicken and more shredded cheese in corn tortillas and pour the remaining sauce over them and had a pan of chicken enchiladas fit for a king!! I also reserved 3/4 cup of the sauce and poured it over 2 chili rellenos (sp)I'd made! Seems as tho I may have had a lot of left overs, but there're only 2 of us and we don't eat heavily,,so, this wonderful crockpot chicken made 2 fab different dinners....just enough shredded chicken leftover for soft tacos tonite....3 meals!!! (sorry this is long, just wanting to be informative on a great recipe)...thanks for posting,,,,Kitty :)

 

Oh yummmm! This was super! I didn't have all day so I cooked it on high about 3 1/2 hours and then added the cream cheese mixture and cooked it the next hour on low. I re-read the reviews right after I poured the cream cheese mixture and saw that someone mentioned mushrooms. So I ran and grabbed my package of whole fresh mushrooms out of the fridge and just threw them on top of everything. Man were they good. Served over egg noodles. It is very important that you have something like rice,noodles, or mashed potatoes to pour the gravy over. Or you'll look silly lapping it up like a dog off your plate. It's that good.

 

Fantastic recipe. I've made it twice now, and the second time I really experimented! The first time I did add the mushrooms as another reviewer suggested, and it was great. This time, I doubled the recipe for a potluck dinner, but instead of 2 cans of cream of chicken, I used 1 can of the chicken and a can of cream of mushroom. I also added some seasonings into the chicken on the first step. I added in sweet Hungarian paprika, a dash of curry and sprinkled Emeril's Essence Seasoning over the mixture. For the chicken broth, I used the 1/2 cup as required, but for the second 1/2 cup for the doubled recipe, I used white wine. WOW! BIG difference, and my dish was the first one to disappear out of over 40 dishes. So don't be afraid to experiment!

 

WOW that was sooooooooooooooooooooooo YUMMY and EASY!!! I also used ranch mix... and put mushrooms in it! the first words out of my mouth after trying this was "Im gonna be making this again!!!" my hubby REALLY likes it too!!! I used fat free cream cheese and you cant even tell!!! soooooo much flavor!!! THANK YOU for the AWESOME recipe!!!

 
Tweaks
I tweaked the heck out of this to make it low carb! First I sauteed chicken in butter. I used garlic herb seasoning and 5-6 leaves of fresh basil snipped and placed the chicken breasts in a slow cooker for 30 minutes on high and then medium low for two hours. I deleted the cream of mushroom soup and added canned mushrooms to the chicken . Sauteed onion and garlic in butter and then added 1 tablespoon of Better Than Bullion. Added the cream cheese and let it soften and then substituted the chicken broth for heavy cream. Added all this to the chicken and let cook for about 30 minutes. I sauteed zucchini noodles in butter with salt and pepper until al dente . OMG ! So Good!

 

Used 1/2 cup bottled Italian dressing ( creamy ) instead of dressing mix as suggested by another reviewer, added this to crockpot right at the start. Did not use any broth. Also sautéed onion/ garlic and added that at the start, as well as 2 shakes each of worstershire, Mrs Dash and a pepper blend to punch up the flavor. Warmed the cream of chicken and only half a block cream cheese (4oz) in microwave for 40 seconds and stirred well , added this in the last hour of cooking. For 1 and 1/2 lbs small pieces of boneless chicken breast ( chicken strips size) my crockpot cook time was 1 hour on high and 2 more hours on low. Was cooked just right, sauce was very creamy and flavor was great . Everyone enjoyed this dish ! Will make again. ( I served sliced sautéed mushrooms on the side, would have added them to the whole dish but one son doesn't like them ! )

 
RECIPE SUBMITTED BY
I?m ?originally from Texas, but now live in Florida. Still gotta have that spice though....love chipotle peppers, habaneros, and jalapenos. This is a picture of myself & my 2 daughters taken in Dec'06. I am working on my graduate degree, & still work as a nurse prn. When I'm not cooking and eating what I cook... I head for the gym to work out. As far as cookbooks, I love the church/ community cookbooks, where someone has dug out old handwritten recipes by granny and shared them with others-those are the best kind. If I had a month off, I'd for sure go hiking, would love to visit Australia and New Zealand.?
View Full Profile