Roast Beef, Tomato, and Cheddar Sandwich
Oparu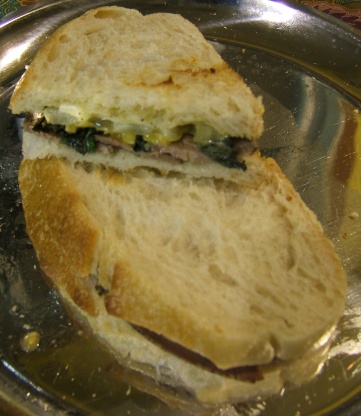 This is the sandwich that makes me remember the Happy Baker in Fredericton, New Brunswick. If possible toast the sandwich and make a panini. I love this simple sandwich! If possible, use yellow tomatoes because they're less acidic than the red ones.
On one of the slices, spray a little olive oil and grind some black pepper on top. Place basil leaves, then roast beef slices, and cheese on that slice.
On the second slice, lightly spread some wasabi mayonnaise.
Put both slices separately in the toaster oven and bake until the cheese melts.
When the sandwich is done toasting, place tomato slices on the cheese and top it off with the second slice of bread.
Cut into halves and serve!