Rich Thick Meat Sauce for a Crowd!
Rita1652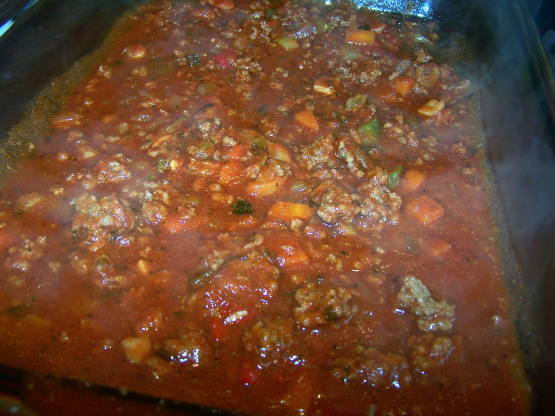 This is made in a large amount for enjoying and freezing. Place cooled sauce by 1 cup full in freezer bags to use for future use. Many veggies to help keep the family healthy and the sauce tasty, with No added fat and the sodium is all naturally in the food!
Heat a dry, large, heavy bottom pot add ground beef to brown mixing to separate cooking for 3 minutes.
Add onion, celery, peppers, carrots, and jalapeno cook for 5 minutes.
Add garlic, mushrooms, herbs and spices cook for 5 minutes.
Add the sauce and paste bring to a boil then reduce heat and let simmer for 1 hour or till thickness desired.
Before serving add some fresh herbs to bring freshness to the home made delish sauce.