PaulaG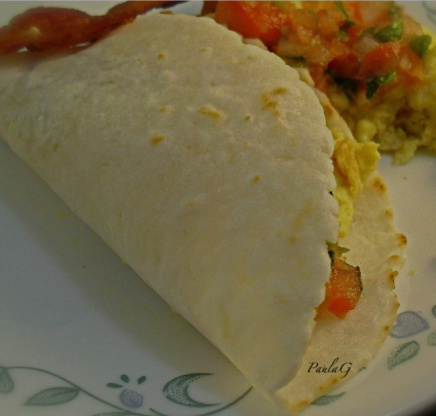 Based on a recipe from Bette Hagman's, The Gluten-free Gourmet cookbook. She says, "Finally! A flour tortilla for those who can't have wheat. These are made in the traditional way by flattening and rolling, then cooking on a hot griddle. Use them for enchiladas, burritos, or fajitas. These keep well in the refrigerator or freezer." You can either use 2 cups of GF Mix Gluten-Free Flour Mix #470769 or use the approximate measurements included in the recipe below under GLUTEN FREE MIX. Nutrition info per serving: calories 190, fat ½ g., carbohydrate 44g, cholesterol 0g., sodium 5 mg., fiber 1 g, protein 2g.

Wow! I've only recently went gluten/wheat free, and these are just as good as any flour tortilla I've had! Good texture, clean flavor. Great for veggie wraps and whatever else! Oh, and easy. I ended up rolling them on parchment and cooking one side while the parchment was still attached (batter was sticky, and it wouldn't come off without tearing). Once it was ready to flip, the parchment pulled off easily. Definitely going to become a standby for me.
In the bowl of a mixer, blend gluten free mix ingredients, xanthan gum, sugar, salt, and milk powder. Add the water and beat on medium speed for 1 minute.
Remove dough from mixer and form a ball. Divide into 6 or 8 parts and roll out each piece very thin until it forms a 10" to 12" round. Roll all the pieces, separating them with plastic wrap or wax paper before cooking.
Heat a griddle to medium-hot or hot and cook each tortilla about 1 minute per side.