Bev I Am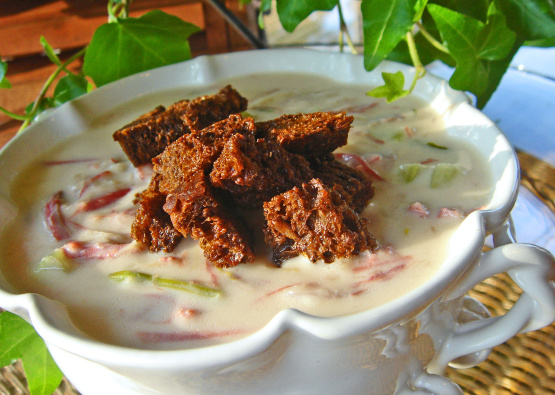 This recipe came from TOH and has become a family favorite. My oldest son loves this even though he says he doesn't like corned beef. Give this one a try--it's great comfort food.

This soup was great. I also added some diced red potatoes and about a tablespoon or so of hot horseradish which gave it a slight kick.
I had rye bread left over so i made my own croutons. All you need to do is cut the bread into crouton size, and mix thoroughly with olive oil, salt, and pepper and put in a 275 degree oven in a single layer. Mix/flip after 10 minutes and put in for another 10 minutes then check them ever minute or two after that till they are crisp.
In a soup kettle, saute onion and celery in butter until tender.
Add broth and baking soda.
Combine cornstarch and water; add to pan.
Bring to a boil; boil for 2 minutes, stirring occasionally.
Reduce heat.
Add sauerkraut, cream and corned beef.
Simmer and stir 15 minutes.
Add cheese; heat until melted.
Season to taste with salt and pepper. **Go easy on the salt as the corned beef is very salty.
Garnish with rye croutons.
**This tastes good made with reduced fat Swiss and fat free half and half--but can sometimes affect the texture.