Reuben and Swiss Casserole Bake
Parsley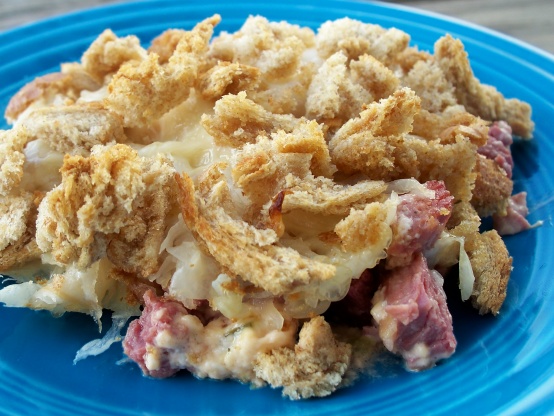 I think this is even better than a reuben sandwich, I bet you will probably eat the whole casserole by yourself! :)

Pretty good casserole! A very easy way to make Ruebens quickly for the whole family! I loved the idea of this, but I found that the sauerkraut made it very watery even though I drained it before adding. I guess you really need to squeeze as much liquid out of it as possible! Also, I couldn't taste the Thousand Island dressing in it, so I guess that could be increased as well. I'll definitely be trying this again with said changes.
1⁄2-1 lb corned beef, cooked and chopped
1⁄4 cup thousand island dressing (Kraft is best)

1

(16 ounce) can sauerkraut, drained and rinsed with cold water
1⁄2 lb swiss cheese, shredded

6

slices rye bread, crumbled into very small pieces
1⁄4 cup butter, melted
Set oven to 350 degrees F.
Butter a 9 x 13-inch casserole dish.
Place the corned beef in the bottom on the casserole dish then dot all over with the dressing.
Spread the sauerkraut over the top of the dressing then top with the grated Swiss cheese.
Toss the breadcrumbs with the butter in a bowl then sprinkle evenly over the the cheese.
Bake for 25-30 mins, or until bubbly.
NOTE; if desired the rye bread topping can be doubled.