Refried Beans Without the Refry
Gatorbek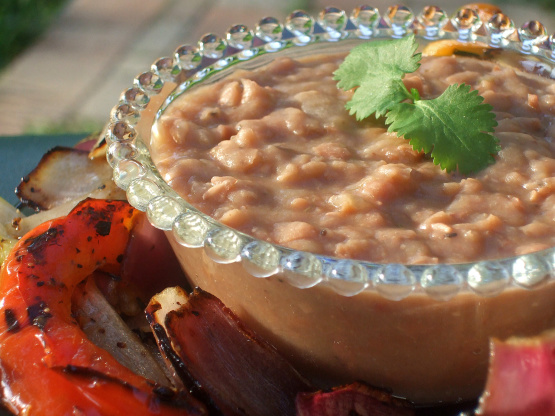 Refried beans made simple in a crock pot...a great and low fat alternative to canned beans. If you like variety, black beans can be substituted for part of the pinto beans. Note: Since reviewers commented on the salt, I've reduced the amount. If you think this may still be too much salt for you, add it at the end and to your personal taste. Enjoy!

I make my beans almost exactly this same way on the stove top, except I add serrano chili and 1 tsp. of ground cumin. I had not tried it in the crockpot before, because I didn't know how much water to add, but this was exactly the right amount of water, and now I can make it in the crockpot too.
Place the onion, rinsed beans, jalapeno, garlic, salt pepper, and cumin into a slow cooker. Pour in the water and stir to combine. Cook on High for 8 hours, adding more water as needed. Note: if more than 1 cup of water has evaporated during cooking, then the temperature is too high.
Once the beans have cooked, strain them, and reserve the liquid. Mash the beans with a potato masher, adding the reserved water as needed to attain the desired consistency.