I made this the first time for public use at a pot luck at Alcatraz. It went over so well, I've been making it ever since. I figure a piece of paper is easier to give to someone than having to make this. I hope you enjoy it.
Directions
Mix together refried beans and 1/4 of salsa.
Place mixture in bottom of 8 x 8 glass dish.
Pour remaining salsa on top of bean mixture.
sprinkle half of taco seasoning or to taste over salsa.
Sprinkle chopped onions over salsa mixture.
Spread sour cream over salsa mixture.
Sprinkle cheese over top of sour cream.
Cover and chill over night.
Serve with Corn chips, crackers, dipping utensiles ect--.
Most Helpful
Family favorite! We mix the whole pkg taco seasoning with the sour cream layer--doesn't matter how you layer it--it is ALWAYS eaten at my house. Thanks for posting.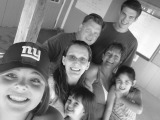 We have been doing this for years. It is really great. We don't care if it is room temp or chilled. Either way is great. The only differrence is we usually put the other half of the seasoning mix into the beans before layering.