Red Snapper with Fennel & Mushrooms
Bergy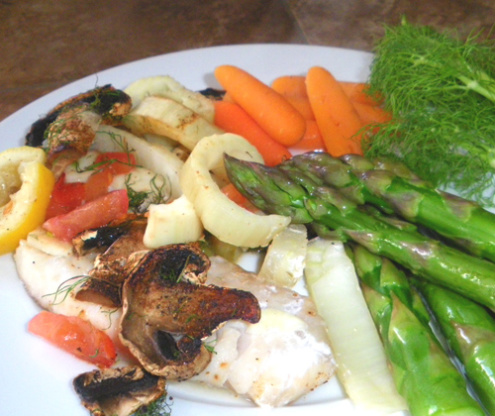 Fennel has a slightly licorice taste and the combination of this with the mushrooms and tomatoe & fish gives an almost haunting flavor.

Top Review by valsh
I love this recipe and make it about once a month.The only thing I changed would be using the juice of the lemon instead of the slices. Oh, and just chop up about a half head of garlic(small) and I put most in the bottom of the pan then a little over the fish.
Rinse the fish well.
Cut 3 or 4 gashes on each side of the fish, from top to bottom Salt the gashes and the cavity.
Heat oven to 450 degrees F.
Push half the garlic slivers into the gashes.
Rub the fish with a little olive oil and pour the rest on the bottom of a baking pan.
Spread the lemon slices on the bottom of the pan, top the lemon slices with 1/2 of the sliced fennel.
Place the fish on the fennel, spread the tomatoes, mushrooms, wine or stock over and around the fish.
Add salt& pepper and the remaining fennel.
Cover with aluminium foil and back for 20-30 minutes.
Uncover and sprinkle the chopped feathery tops over the fish, continue baking until done apprx 5-10 minutes.
To serve scoop the flesh from the fish with a spoon and top with the veggies and sauce.