Red Potatoes With a Flare
Brenda.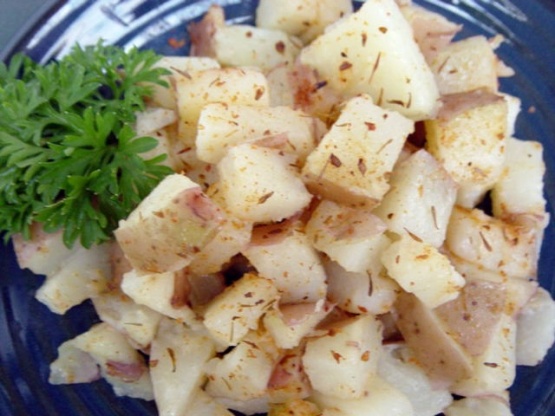 Playing around in the kitchen one day my sister and I came up with this recipe; very simple, easy to make and quick.

Maybe these should be called Flaming Red Potatoes. Wow!!! Spicy beyond what my taste buds could handle. I made them, then tested a small bowl. Decided that they would be too spicy for the family, and actually rinsed them off to tame them a bit. DH still commented that they were really spicy.
Dice your potatoes with the skins on.
Place diced potatoes in a pot of water and boil until done.
Drain.
Add butter, let melt and toss well to coat all potatoes.
Combine all essence ingredients thoroughly. This essence will keep for several months in a container that is air tight.
Add 1 tablespoon of the essence to the potatoes. I normally use Original but I have also used his Baby Bam and others.