Red Potato Soup With Roquefort
Parsley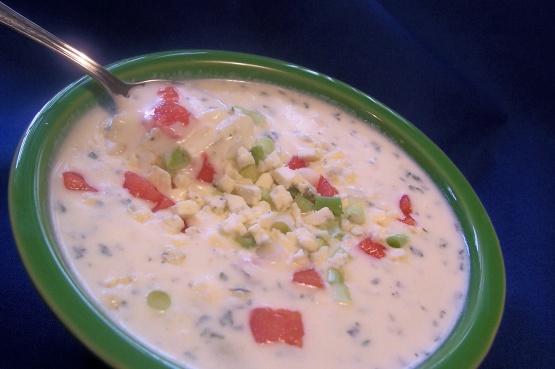 Copied from a Better Homes and Garden Quick Soup mini-cookbook-the kind you impulsively buy while waiting in a checkout line at the grocers. It's been so long since I've tried this soup that I don't remember if I like it or not. You try it and let me know, okay?
3

medium red potatoes, peeled, cut in chunks (about 2 cups)

1

cup stock

1

small onion, chopped
1⁄8 teaspoon white pepper

2

cups whole milk (for richer soup use whipping cream for part of the milk)

2

tablespoons flour
1⁄2 cup blue cheese

2

tablespoons fresh parsley, minced

1

tablespoon butter

Garnish

1⁄2 cup tomatoes, firm but ripe, diced small

2

tablespoons green onions, thinly sliced
In a medium saucepan combine the peeled red potatoes, stock, onion, and white pepper. Bring water to boil then reduce heat. Simmer uncovered about 20 minutes or until the potatoes are fork tender. Mash the potatoes slightly; DO NOT drain.
In a screw-top jar combine 1/2 cup milk and the flour; cover and shake vigorously. Add the mixture to the saucepan then add the remaining milk. Cook and stir until bubbly for approximately 1 minute but be careful not to burn.
Finally, stir in the bleu cheese (reserve 2 tablespoons for garnish), butter and fresh parsley. Keeping stirring the soup until the cheese and butter melt. At this point you can choice to puree the soup or not. Top each serving of soup with diced tomatoes, green onion slices, sprinkle of bleu cheese and garnish of fresh parsley.
Serve with a hearty bread.