PaulaG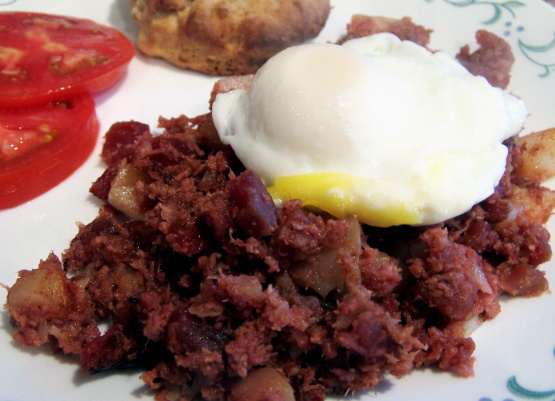 A traditional New England recipe--the "red flannel" refers to the inclusion of beets. Frequently served for breakfast or lunch using the left-overs from a New England boiled dinner the night before. Traditionally each serving is topped with a poached egg, but this is optional. A "quick and dirty" approximation can be had by combining a can of corned beef hash and a can of beets, chopped, and frying in a skillet. Some people top it with catsup. Preparation time does not include pre-cooking the vegetables, since leftovers are so commonly used. Tasty, but definitely not for people avoiding fat or salt.
Combine beef and vegetables.
Heat lard or fat in a skillet; the pan should be well coated.
Add hash and spread out to cover the bottom of the pan; add some broth to ensure it against sticking.
Cook over low heat about 30 minutes.
Traditionally, it is cooked like an omelet, without stirring; a bit of a crust forms on the bottom from the mixture of the vegetable starches and the fat.
However, I've also had it cooked with stirring occasionally to keep it jumbled up.
Serve hot.