PaulaG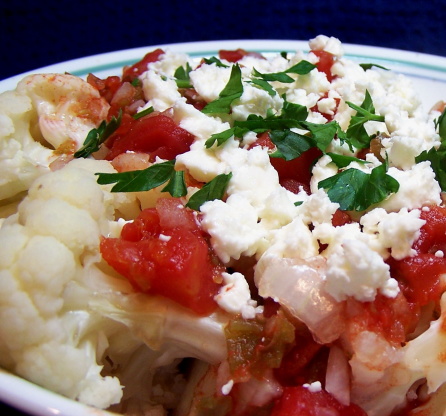 Cauliflower the Mexican way, a very pretty dish and delicious too. evolved from Mexican the healthy way.
Top Review by PaulaG
I like cauliflower and love to find different ways of preparing it. This adds some zip to what can be a bland vegetable. The feta cheese melted and added creaminess to the dish. I used 2 jalapeno peppers which were making my eyes water. I thought the sauce was a little thin and next time would draini the tomatoes. All in all a good dish, thanks for posting.
Chop the onion very finely and place in a bowl.
With a zester peel away the zest of the lime in thin strips.
Add to the chopped onion.
Cut the lime in half and add the juice from both halves to the onions and lime zest mixture.
Set aside so that the lime juice can soften the onion.
Cut the cauliflower into florets.
Tip the tomatoes into a pan and add the peppers (or chillies) and sugar.
Heat gently.
Meanwhile, place the cauliflower in a pan of boiling water and cook gently for 5 to 8 minutes until tender crisp.
Add the onions to the tomato salsa and salt to taste, stir in and heat through, then spoon about a third of the salsa into a serving dish.
Arrange the drained cauliflower florets on top of the salsa and spoon the remaining salsa on top.
Sprinkle with the feta, which should soften a little on contact.
Serve immediately, sprinkled with chopped fresh flat leaved parsley.