Red Beans and Rice (Crock Pot)
Candy C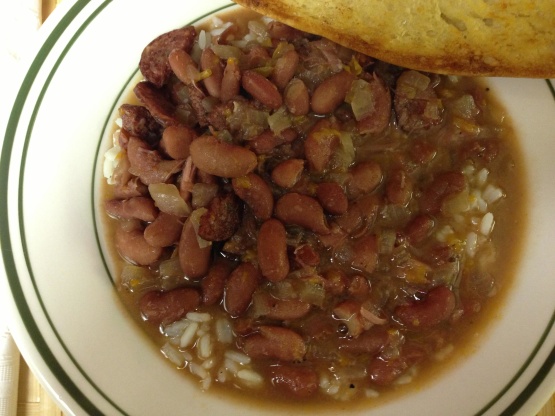 This recipe is adapted from www.crock-pot.com. I estimated the number of servings.

I have made this several times and love having a reliable red bean recipe for the crock pot! I soak the beans overnight to assure they're tender. I use 1 quart of organic beef stock, 1 cup water, and 3-4 Bay leaves. I also, like Katmenew, mash some of the beans to thicken the broth. Made it last night with an apple smoked ham hock and hot smoked sausage - fantastic! I always add a variety of heat - black and cayenne pepper, Cajun garlic pepper sauce, jalapeno sauce, and Jamaican hot sauce. My husband is from New Orleans so we know good red beans and rice - these are them.
Soak beans in water to cover overnight, drain, and rinse OR in a large pot, cover beans with 3 times their volume of water and bring to a boil. Boil for 10 minutes. Remove from heat, cover, and let stand for 1 hour. Discard water.
Combine all ingredients except rice in crock. Cover and cook on low for 10 to 12 hours or on high for 5 to 6 hours.
serve over hot cooked rice.