igolf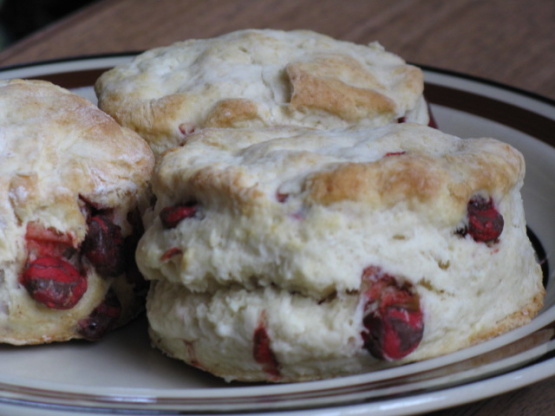 Delicious scones that go great with tea!

These are very tasty scones! I realized at the last minute that unlike regular chocolate chips raspberry chips contain milk, so I substituted dried cranberries, as the recipe suggested. I also used soy buttermilk. I did have a little bit of trouble with the dough being too dry, and had to add some more buttermilk to get it to form a ball, but other than that the scones were quick and easy. My family really enjoyed them. I wish I could try them with the raspberry chips, I bet they're even better!
Combine flour and sugar in a bowl.
Cut butter into mixture until it resembles coarse meal.
Add buttermilk and vanilla extract, then raspberry chocolate chips.
Stir until all ingredients are moistened and form a soft ball.
Turn out onto a generously floured surface and knead until it can be patted out into a circle 1/2-inch thick.
Cut with a 2-inch biscuit cutter; place on a baking sheet, brush tops of scones with egg white.
Bake in a preheated 400° oven until golden brown, 10-12 minutes.
Note: if you can't find raspberry chocolate chips, substitute raisins, dried cranberries or dried cherries.