diner524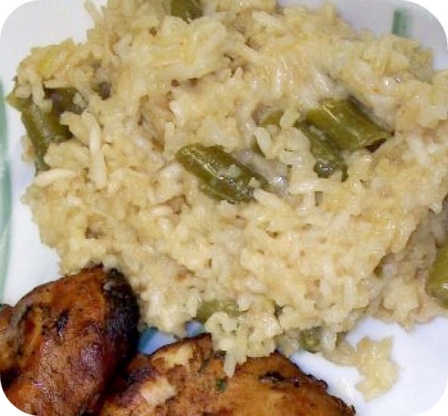 This was in one of her magazines. It is tasty and different.
Made this as a side dish to go along with marinated and grilled chicken thighs and it was a delicious dinner. I did change a couple of things by using half butter and half oil and adding some minced onion for added flavor. My 16 yo DS doesn't care for peas, so I added green beans. This is so quick and easy to make and very flavorful. Made for Spring PAC 2008, thanks Jenny for a great recipe.
Over medium heat, heat the olive oil in a deep skillet that has a lid. Add the rice and stir with a spoon until the rice has turned light brown.
Add the chicken broth, bring to boil, cover with lid and reduce heat to simmer. Let the rice cook for 15 minutes and until the liquid has been all absorbed.
Remove the lid and add the peas and cheese. Stir well and cook for 2-3 minutes.